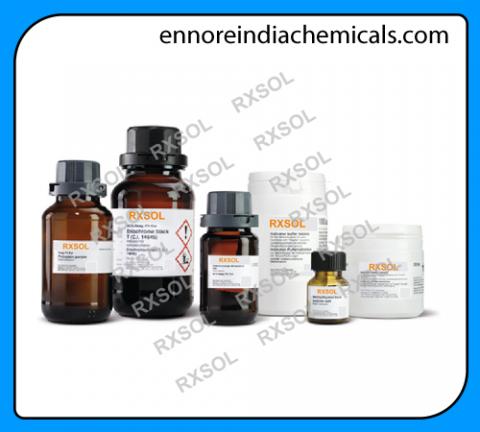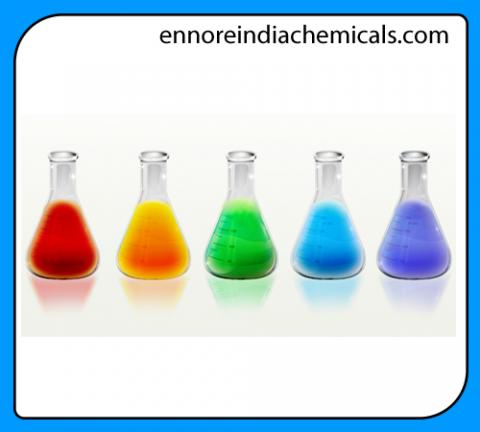 XYLENOL ORANGE TETRASODIUM SALT ACS GRADE
Product Delivery Locations:
Kattupalli Port ( L & T Shipbuilding Limited shipyard ), Ennore Port ( Coromondel International Limited Port Area ), Chennai Port, Mugaiyur port, Thiruchopuram port, Silambimangalam Shipyard, Parangipettai port, PY-03 Oil Field, Kaveri port, Vanagiri port, Thirukkadaiyur port, Thirukkuvalai port, Punnakkayal port, Udangudi port, Manappad port, Koodankulam port, Chettinad Tharangambadi Port, Mathur SIDCO Industrial area, Sipcot Industrial Park Malayambakkam
Versatile indicator for acidic range, commonly used as an indicator for metal titrations.
Product Description:
XYLENOL ORANGE TETRASODIUM SALT ACS GRADE excellent quality manufacturer, exporter and supplier. Xylenol orange is an organic reagent, most commonly used as a tetrasodium salt as an indicator for metal titrations. When used for metal titrations, it will appear red in the titrant and become yellow once it reaches its endpoint.
Product Application:
Xylenol Orange tetrasodium salt is used as a photometric reagent and a metal indicator. It is a versatile indicator for EDTA titrations in acidic range. It is a common organic reagent used as an indicator for metal titrations.
Product Procedure:
Xylenol Orange tetrasodium salt, ACS also availble in various packing.
Grade Specifications
Maximum level of impurities: Clarity of solution P.T., Suitability for zinc titration P.T.
Product Note:
Reagent for zinc titration.
We also keeping ready stock of  - 5-Sulfosalicylic acid dihydrate, 98%, Potassium nitrate, 99%, Bromocresol Green, Crystal Violet, Hexamethylenetetramine, ACS, 99+%  and many more colour indicator..
Product Technical Specification:
| | |
| --- | --- |
| C.A.S. No. | 3618-43-7 |
| M.F. | C31H28N2SO13Na4 |
| M.W. | 760.59gm/mole |
Specifications:
| | |
| --- | --- |
| Solubility 0.1% (Dist. water) | Clear solution |
| Absorption maximum (0.1N NaOH) ?max | 575-580nm |
| Absorptivity (A1%/1cm in 0.1N NaOH, at ?max) | >620 |
| Loss on drying (110°C) | <8% |
| Suitability for Zinc titration | Passes test |
Product pack size:
1 Gram, 5, 10, 100 and 500 Gram packing contact us through email for you required qty and customized packing
Product alias:
XYLENOL ORANGE TETRASODIUM SALT (ACS GRADE), Metal Indicator
Also called as 3,3''-Bis[bis(carboxymethyl)aminoethyl] cresol sulfone phtrane sodium salt
Xylenol orange (3,3′-bis[N,N-di(carboxymethyl)aminomethyl]-o-cresolsulfonephthalein), which is a water-soluble dye of the triphenylmethane group, was tested for a dye-sensitized solar cell. 
Keywords - Xylenol orange, Solar cell, Dye-sensitized
RED to Yellow indicator during metal titrations, it will appear red in the titrant and become yellow once it reaches its endpoint.
Chemical Properties
Formula C31H28N2Na4O13S 
Molecular Weight 760.59 
Form Powder 
Melting point 210° dec. 
Solubility Soluble in water.
The particular pH used to buffer the titration solution was also chosen because of the metal ion indicator used to signal the end point in the titration. A metal ion indicator is a substance that changes color when it binds to metal ions in solution. Metal ion indicators tend to be polyprotic complexing agents. Xylenol orange  is used for the cobalt titration. This indicator is red when it forms a complex with metal ions such as Co2+. However, the color of the unbound (free) indicator depends on pH and which protonated form is predominantly present. Above pH = 6.7, free xylenol orange is violet and the color change from red to violet is not sharp. However, below pH = 6.7 the free indicator color is yellow and the change from red to yellow is
much easier to see.
A small amount of xylenol orange is added initially to the cobalt solution and it forms a complex with some of the Co2+. As EDTA is added to this solution, the EDTA complexes the free Co2+. Just before the equivalence point, the free Co2+ is used up and the EDTA starts to remove cobalt ion from the indicator. As the xylenol orange loses the metal ion, its color changes. Obviously, the indicator must not bind the metal ion as strongly as the complexing agent (EDTA) used for the titration.