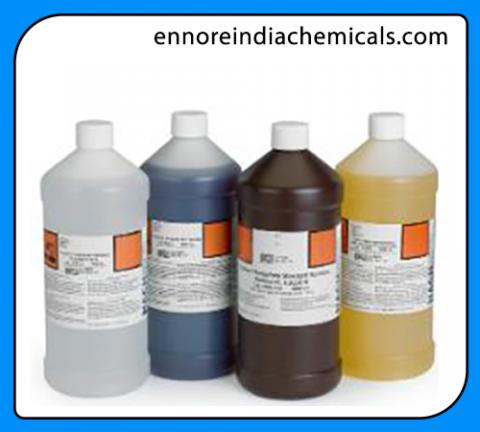 Sulfate Standard Solution
Product Delivery Locations:
Kattupalli Port ( L & T Shipbuilding Limited shipyard ), Ennore Port ( Coromondel International Limited Port Area ), Chennai Port, Mugaiyur port, Thiruchopuram port, Silambimangalam Shipyard, Parangipettai port, PY-03 Oil Field, Kaveri port, Vanagiri port, Thirukkadaiyur port, Thirukkuvalai port, Punnakkayal port, Udangudi port, Manappad port, Koodankulam port, Chettinad Tharangambadi Port, Mathur SIDCO Industrial area, Sipcot Industrial Park Malayambakkam
Glycerol sulfate solution is used to maintain proper crystal size in pricipitation of SUFATE, during SULFATE TEST. As The resultant turbidity of solution is measured at a wave length sensitive to turbidity on a photometer.
Product Description:
Sulfate Standard solution is used to prepared sulfate calibration curve. As The resultant turbidity during sulfate test of sample solution result on photometer.
Standardization of this solution directly proportionate to Calculation of Results. The sulfate concentration in parts per million as SO4 is obtained by reference to the prepared sulfate calibration curve.
Product Application:
Water Testing Procedures Manual (

Full Range Lab

testing

Methods with standard composition ratio Of Reagents

::: Available with us at 2700 INR or 54 US$ or 207 AED