Primary tabs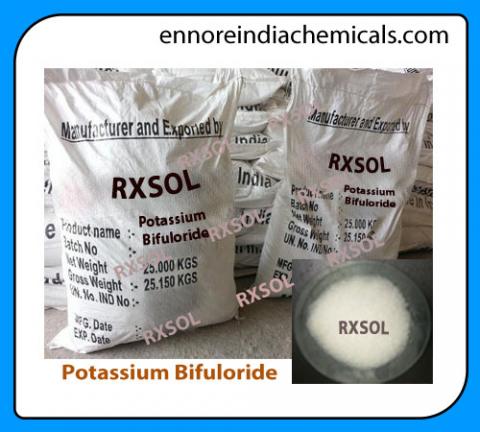 Potassium Bifluoride
Product Delivery Locations:
Kattupalli Port ( L & T Shipbuilding Limited shipyard ), Ennore Port ( Coromondel International Limited Port Area ), Chennai Port, Mugaiyur port, Thiruchopuram port, Silambimangalam Shipyard, Parangipettai port, PY-03 Oil Field, Kaveri port, Vanagiri port, Thirukkadaiyur port, Thirukkuvalai port, Punnakkayal port, Udangudi port, Manappad port, Koodankulam port, Chettinad Tharangambadi Port, Mathur SIDCO Industrial area, Sipcot Industrial Park Malayambakkam
Generic Name:
Potassium hydrogen difluoride
Potassium Bifuloride supplier and exporter
Product Application:
Applications: Potassium Bifluoride is used for manufacturing wood preservatives.It is used in the production of soldering agents and brazing. It is also used as a catalyst for polymerization. It is used as a component of electrolyte and fluorine production. It is used in glass industry for etching and manufacturing special optical glasses. Flux for Silver Solders and constituent of Brazing Flux formulation. Catalyst in the Alkylation of benzene with olefins.
Product Technical Specification:
Potassium Bifluoride
Name: Potassium bifluoride
Synonyms: Potassium hydrogen fluoride
CAS No.: 7789-29-9
Molecular Formula: KHF2
Molecular weight: 78.10
It is a colourless tetragonal or cubic crystal with slightly acidic smell and relative density of 2.37, mp 225°C. It is easy soluble in water, insoluble in alcohol. Its aqueous solution is acidity. It is stable in dry air, but decomposes to release hydrogen fluoride in humid air. It gives of HF when heated to 310°C, and the steam pressure of hydrogen fluoride could reach 0.10325Mpa(l atm) at 400°C. The activity of fused potassium bifluoride is greater than potassium fluoride. It is toxic and caustic.
Specification: 99%min
Appearance : White Crystalline powder
Boiling Point : Decomposes at >400 °C
Melting Point : 225 °C
Specific Gravity : 2.37
Product pack size:
25kg/bag Classification and Safety Information. Potassium Bifuloride CAS NO : 7789-29-9, UN NO : 1811, IMCO CODE : 8, PACKING GROUP : II
Remarks:
Product Test Specification : 
| | | |
| --- | --- | --- |
| Parameters |  Unit | Specification |
| Loss on dry | % Max | 0.02 |
| Purity as 'KHF₂' | % Min | 99.51 |
| Fluorine as 'f ' | % Min | 48.71 |
| White Degree | % Min | 95 |
| Sulphate as 'SO₄' | % Max | 0.003 |
| Chlorides as 'Cl' | % Max | 0.003 |
| Potassium Fluorosilicate | % Max | 0.0045 |
| Heavy Metals as 'Pb' | % Max | Nil |
| Iron as 'Fe' | % Max | 0.001 |
| Sodium as ' Na' | % Max | 0.001% |
|   |   |   |