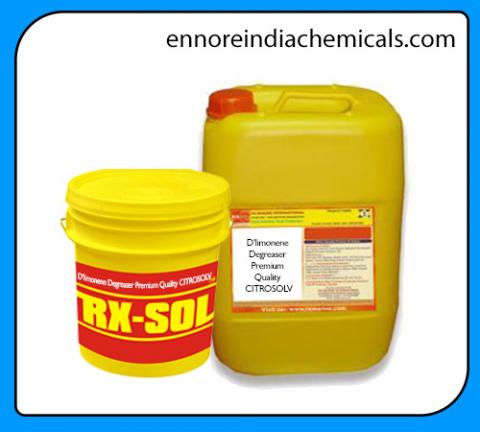 D'limonene Degreaser Premium Quality CITROSOLV
VOC compliant. PREMIUM QUALITY degreaser works where others fail. Formulated with several different ingredients including nature's own natural citrus solvent.This formula works on extremely tough jobs that require extra strength. Concentrated, this citrus soap may be
Product alias:
Degreaser Conc. Citrus Detergent
Product Delivery Locations:
Kattupalli Port ( L & T Shipbuilding Limited shipyard ), Ennore Port ( Coromondel International Limited Port Area ), Chennai Port, Mugaiyur port, Thiruchopuram port, Silambimangalam Shipyard, Parangipettai port, PY-03 Oil Field, Kaveri port, Vanagiri port, Thirukkadaiyur port, Thirukkuvalai port, Punnakkayal port, Udangudi port, Manappad port, Koodankulam port, Chettinad Tharangambadi Port, Mathur SIDCO Industrial area, Sipcot Industrial Park Malayambakkam
Product Description:
This  powerful D'limonene based cleaner  biodegradable citrus cleaner that is environmentally safe and VOC compliant. Degreaser  works  where  others fail heavy-duty liquid cleaner, This product is  Designed for a .... Citra-Solv Solvent Degreaser Concentrate.. Formulated with several different ingredients including nature's own natural citrus solvent.This formula works on extremely tough jobs that require extra strength.  Concentrated, this citrus soap may be diluted with up to 200 parts water for greatest economy.This citrus cleaner may be used for dip tank degreasing corrosion protection and removes oil, grease, rubber marks and other contaminants. RXSOL-10-1713-025 also removes curing compounds and sealers .  Rust preventatives form a corrosion inhibiting coating when diluted orange cleaner is not rinsed from metal surfaces.
Instantly emulsifies oils and greases. Made with D. Lemonine, this multipurpose formulation also works as an effective and multipurpose. 
 
Product Application:
Standard Dilution / Mixing Recommendation: Mix 250 ml . of  RXSOL-10-1713-025 concentrate in a 4 Ltr of water ( while for normal uses may be diluted with up to 200 parts water ) . Heavily grease-caked areas should be scraped prior to application. Use 100% concentrate to remove curing compounds and sealers. Experiment on a small test area to determine the best dilution ratio for the specific job.
Product Procedure:
TYPICAL USES
RXSOL-10-1713-025 removes uncured epoxy and curing compounds from tools and equipment. It can be used to clean sealers , grease, oil and other contaminants from affected surfaces. RXSOL-10-1713-025 also removes automobile and forklift tire marks.
APPLICATION:
This product can be applied with sprayers, floor scrubbers and other conventional means. Allow to stand for 2 to 10 minutes. Scrub contaminated area.
Flush with water and vacuum loose particles. Reapply to areas where stains remain or areas where heavy accumulations of oil, grease or other contaminants have occurred.
 
Product Technical Specification:
PHYSICAL PROPERTIES
Color                                                        Clear
Fragrance                                               Orange
Coverage per gallon                            150 sq. ft.
Film                                                         None
Phosphate                                             Free
Biodegradable                                      Yes
VOC Compliant                                     Yes
Light soil  

1 to 150 parts water

Medium soil

1 to 40 parts water

Heavy soil
1 to 40 parts water
Painted garage floors
1 to 10 parts water

Oil stained un-coated 

 
concrete floors
1 to 5 parts water
Kitchens floors
1 to 8 parts water
Windows or mirrors
1 to 200 parts water
Equipment
1 to 10 parts water
Swimming pools
1 to 8 parts water
White side wall tires
1 to 5 parts water
Greasy asphalt
1 to 8 parts wate
CLEANS:
KITCHENS,  FACTORIES,  SCHOOLS,  MACHINERY,  FOOD OCESSING EQUIPMENT,  GARAGE FLOORS, HEAVY EQUIPMENT,  RESTAURANT FLOORS, AUTO, GREASY ENGINES, AUTOMOTIVE INTERIORS, SPOTS ON CLOTHING.

VERSATILE:

Works great for hand operations, automatic scrubbers or pressure washers.

No harmful vapors or toxic solvents, Works well in hot, cold, hard or soft water. Non-flammable, Non-corrosive, Biodegradable
 Orange deodorant cleaner contains superior grease and soil penetrating qualities that allow this citrus degreaser / cleaner to be used in many ways.ORANGE DEODORANT CLEANERconcentrate is a safe alternative to hazardous cleaners of the past.This cleaner gives you something that ordinary cleaners can't offer-"DEODORIZING ACTION".  The citrus extracts in this cleaner leave a pleasant, fresh scent that your customers are sure to notice and appreciate.The above directions are flexible rather than specific. In many cases a more diluted solution can be used, while for extreme conditions a less diluted solution may be used.
Product Note:

ADVANTAGES
• Environmentally safe. Can be used in areas where
other degreasing products may not be allowed,
such as restaurants, hospitals, etc.
• Non-offensive orange fragrance.
• Non-toxic.
• User friendly.