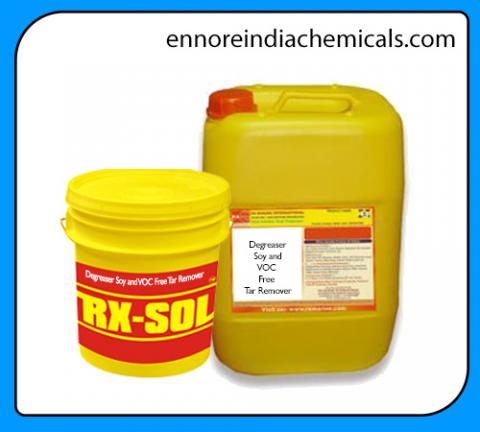 Degreaser Soy and VOC Free Tar Remover
Product Delivery Locations:
Kattupalli Port ( L & T Shipbuilding Limited shipyard ), Ennore Port ( Coromondel International Limited Port Area ), Chennai Port, Mugaiyur port, Thiruchopuram port, Silambimangalam Shipyard, Parangipettai port, PY-03 Oil Field, Kaveri port, Vanagiri port, Thirukkadaiyur port, Thirukkuvalai port, Punnakkayal port, Udangudi port, Manappad port, Koodankulam port, Chettinad Tharangambadi Port, Mathur SIDCO Industrial area, Sipcot Industrial Park Malayambakkam
Soy Degreaser & VOC Free Tar Remover
Product Description:
RXSOL-10-1724 is a new trend setting formulation that keeps pace with today's safety and environmental regulations.  Powerful natural ingredients are blended to out perform the conventional hazardous solvent degreasers. This natural degreaser concentrate instantly emulsifies grease, oils and fats without the use of harsh acids, alkali, or petroleum solvents.  RXSOL-10-1724's organic extract is extremely strong, and works extremely well under the worst conditions.  RXSOL-10-1724 has a wide variety of uses indoors and out.  This product will remove most resins, adhesives, printing inks, decals, tar, rubber tire marks and asphalt.  RXSOL-10-1724 also is an effective drain cleaner and maintainer.  This product is v.o.c. free.  
Product Technical Specification:
For heavy duty cleaning, degreasing and rubber tire mark removal on concrete, dilute RXSOL-10-1724 concentrate 1 to 2-8 parts water until a uniform emulsion is formed.  Let stand 2 minutes.  Scrub thoroughly and rinse with water.  For drain cleaning, use RXSOL-10-1724 straight and pour directly into drain - let stand for 2 hours and flush with hot water.