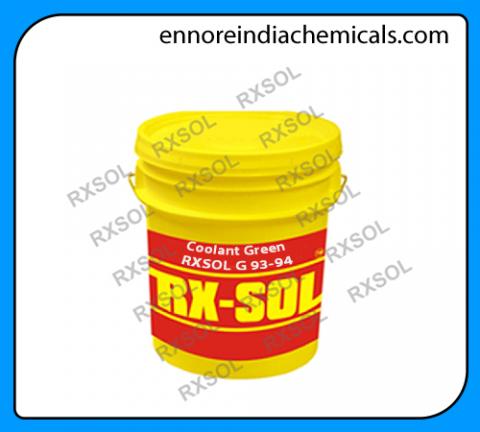 Coolant Green RXSOL G 93-94
Product Delivery Locations:
Kattupalli Port ( L & T Shipbuilding Limited shipyard ), Ennore Port ( Coromondel International Limited Port Area ), Chennai Port, Mugaiyur port, Thiruchopuram port, Silambimangalam Shipyard, Parangipettai port, PY-03 Oil Field, Kaveri port, Vanagiri port, Thirukkadaiyur port, Thirukkuvalai port, Punnakkayal port, Udangudi port, Manappad port, Koodankulam port, Chettinad Tharangambadi Port, Mathur SIDCO Industrial area, Sipcot Industrial Park Malayambakkam
Inhibitor concentrate/chemical which is added to the cooling water of internal combustion engines in cases in which the coolant does not need to be protected from freezing. It efforts excellent protection against cavitation and corrosion to all metals and
Product Description:
Coolant Green RXSOL G 93-94 manufacturer, supplier and exporter.
Product Application:
Ethylene glycol-based contain corrosion inhibitor ingredients along with additives, such as silicates, borates and phosphates. This is the reason why Coolant Green RXSOL G 93-94 resulting very good cooling effect towards reunning motors with extra protection of corrosion towards the system.
Product Procedure:
What is difference between Green coolant and orange coolant ?
Green and Orange antifreeze are ethylene glycol-based coolant. Presence of corrosion inhibitor ingredients or additives making major difference between orange and green. As orange antifreeze contains organic acids while green antifreeze has additives, such as silicates, borates and phosphates.
Product pack size:
5, 10, 20, 25, 50, 210 Ltr available and can be customized as per requirement. Mail us for discounted available price. Export quality products.
Product alias:
Glayscor G93-94, inhibitor for Aluminium Alloys AND YELLOW METALS, COOLANT , VOLVOPENTA GREEN