Primary tabs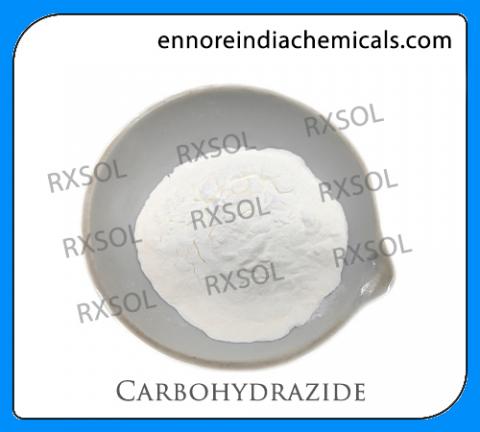 Carbohydrazide
Product Delivery Locations:
Kattupalli Port ( L & T Shipbuilding Limited shipyard ), Ennore Port ( Coromondel International Limited Port Area ), Chennai Port, Mugaiyur port, Thiruchopuram port, Silambimangalam Shipyard, Parangipettai port, PY-03 Oil Field, Kaveri port, Vanagiri port, Thirukkadaiyur port, Thirukkuvalai port, Punnakkayal port, Udangudi port, Manappad port, Koodankulam port, Chettinad Tharangambadi Port, Mathur SIDCO Industrial area, Sipcot Industrial Park Malayambakkam
Generic Name:
Carbodihydrazide Oxygen scavenger for boilers
No oxygen is entering the boiler with the feed water when hydrazine is present in the water ( This will help to decrease oxygen on HP, LP boiler )
Product Description:
Carbohydrazide in BOILER means no oxygen is entering the boiler Carbohydrazide will help to decrease oxygen on HP, LP boiler. Carbohydrazid also called Carbodihydrazide, is a high performance oxygen scavenger which can be used in all types of boilers. Carbohydrazide is a white, water-soluble solid that decomposes upon melting point around 153°C.
Product Application:
Carbohydrazide can be used as oxygen scrubber as direct replacement for Hydrazine in any boiler without the associated safety hazards and handling precautions. The product is based on volatile chemistry and so leaves no dissolved solids and minimal ammonia to the boiler system.
Product Procedure:
Carbohydrazide does provide outstanding protection from oxygen corrosion together with excellent feed water and boiler system passivation.Carbohydrazide reacts directly with oxygen. It helps prevent oxygen damage and continues to passivate metal surfaces during wet lay-up. Carbohydrazide can also be used as a curing agent for epoxide-type resins.
Product Note:
As proper level Carbohydrazide protect metal machinery parts from corrosion.
Carbohydrazide is one of popular an alternative Oxygen Scavenger. It is very important to protect boiler components from feed boiler water corrosion.

Product Technical Specification:
Physical properties
| | |
| --- | --- |
| molecular formula: | OC(N₂H₃)₂ |
| CAS No.: | |
| Molecular weight: | 90.09 |
| Description: | White Solid |
| odor: | Characteristic Smell |
| Density: | 1.34 (25/4°C) |
| | |
| Solubility: | Soluble in water, ethanol |
| vapor density: | 1.04 (air = 1) |
| vapor pressure: | 14.4 mm Hg at 25°C |
Product pack size:
Packed in clearly marked with contents 25, 50, 200Kgs, Hydrazine Hydrate also can be supplied in polythene lined steel drums. Drums will be palletised and shrunk wrapped on new strong wooden pallets.
Recommended dose of Carbohydrazide :
| | |
| --- | --- |
| Low Pressure Boiler ( 0 to 40 bar ) | 0.10 to 0.2 ppm level |
| Medium Pressure Boiler ( 41 to 60 bar ) | 0.1 to 0.15 ppm level |
| High Pressure Boiler ( more then 60 bar) | 0.05 to 0.10 ppm level |
Valuable Boiler Water Treatment Chemicals :

Hydrazine Hydrate (50 ~ 51% as N2H4) plays very important role for corrosion protection in boilers.

Activated Hydrazine (34 ~ 35% as N2H4) Catalyzed Hydrazine solution for corrosion Protection and related equipment.

Morpholine (C4H9NO). Technical Grade for Boiler Water Treatment. Purity Not less than 99%.


Acid Inhibitor : For the suppression of Hydrochloric Acid attack on Ferrous alloys, Cuprous alloys and Titanium alloys, effec up to 94°C with efficiency not less than 75% in 5% HCI solution and Acid Inhibitor concentration 2%.


Ammonia 25% (NH4OH).
25% as ammonium Hydroxide used high pressure Boiler water treatment.
It is a clear colorless liquid.
PH 11-12 @ 20 °C.
Density 0.9 g/cm3.
Chloride (CL) 0.002 mg/liter maximum.
Iron (Fe) 0.002 mg/liter maximum.


Hardness Stabilizer :
Polyacrylate material of low molecular weight.
Non-volatile used for scale inhibition in sea water treatment.
The product is miscible with water in all proportions. And is clear Liquid.
PH valve 5-7.
Density @ 20°C Approx. 40%.
Chemical Characterization Sodium Polyacrylate, Modified, Aqueous solution.
Solidification temperature -20°C.
Flash point >100°C.
Ignition temperature >200°C.
Carbohydrazide supplier in Mumbai, Kolkata, Gandhidham, Chennai, Visakhapatnam, Fujairah, Dubai, Abudhabi Sharjah Muscat Oman, Canada. Carbohydrazide plays very important role for corrosion protection in boilers water treatment.
Remarks:
Carbohydrazide is used as an oxygen scavenger for high pressure boilers in power plants and other industries to reduce corrosion of metal pipes and fittings.