Primary tabs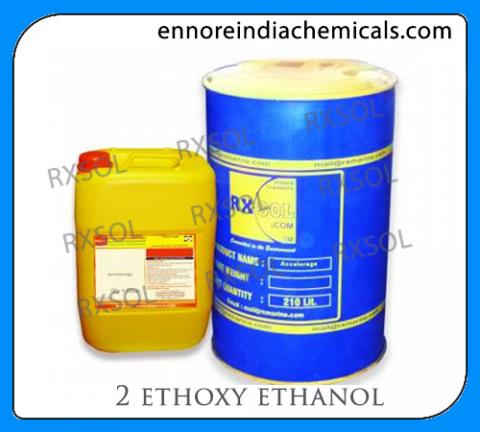 2 Ethoxy Ethanol
Product Delivery Locations:
Kattupalli Port ( L & T Shipbuilding Limited shipyard ), Ennore Port ( Coromondel International Limited Port Area ), Chennai Port, Mugaiyur port, Thiruchopuram port, Silambimangalam Shipyard, Parangipettai port, PY-03 Oil Field, Kaveri port, Vanagiri port, Thirukkadaiyur port, Thirukkuvalai port, Punnakkayal port, Udangudi port, Manappad port, Koodankulam port, Chettinad Tharangambadi Port, Mathur SIDCO Industrial area, Sipcot Industrial Park Malayambakkam
2 Ethoxy Ethanol,Ethylene glycol ethyl ether; Cellosolve
Product Description:
A hydroxyether that is the ethyl ether derivative of ethylene glycol. 2 Ethoxyethanol, is a reaction product of ethylene oxide and Ethanol. 2 Ethoxyethanol also knon as Ethylene Glycol Monoethyl Ether . 2 Ethoxyethanol is chemically known as a Ethyl Glycol, 1-Ethoxy-2-hydroxyethene, Ethyl (2-hydroxyethyl) ether. Commercially it is known as a Ethyl Cellosolve, which is a trademark of Union Carbide. Ethylene Glycol Mono Ethyl Ether is an excellent solvent for the various resins & paste etc.
Product Application:
2 Ethoxyethanol is a medium boiling, colorless stable liquid having a mild odor. 2 Ethoxyethanol is a completely miscible with water & organic liquid. 2 Ethoxyethanol is used as a solvent in nitrocellulose and cellulose Ether lacquers due to its pleasent odor. Ethyl Cellosolve is also not slow down the drying time dispite its low volatility.
Product Procedure:
The addition of small quantity of 2 Ethoxyethanol to alkyd resin and cellulose ether lacquers considerably reduce their viscosity & thus improves their brushability. 2 Ethoxyethanol is also used as an ingredient in cleaning agent and paints stippers. The Some vegetable Oils can be dispersed in water with the help of2 Ethoxyethanol . This product is also used in Latex Paint industries as a Solvent & Covering Agent
2 Ethoxyethanol tends to absorb water rapidly and therefore always mixed with Carbitol, methoxybutanol or Butanol, in order to prevent "blushing" of the lacquer film on drying. Cellulose lacquers containing 2 Ethoxyethanol are applied to stained wood, the solvent dissolves part of the stain out of the wood, giving slightly colored lacquer films. 2 Ethoxyethanol may also be used in the dying of leather. 2 Ethoxyethanol does not attack rubber.
Product alias:
<p> 2 Ethoxy Ethanol, Ethylene glycol ethyl ether; Cellosolve</p>