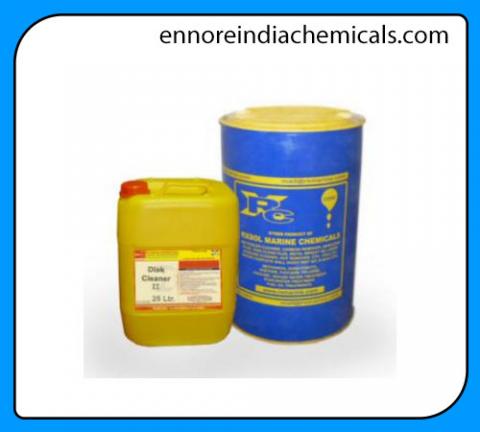 Disc Cleaner 210 Ltr
Product Delivery Locations:
Kattupalli Port ( L & T Shipbuilding Limited shipyard ), Ennore Port ( Coromondel International Limited Port Area ), Chennai Port, Mugaiyur port, Thiruchopuram port, Silambimangalam Shipyard, Parangipettai port, PY-03 Oil Field, Kaveri port, Vanagiri port, Thirukkadaiyur port, Thirukkuvalai port, Punnakkayal port, Udangudi port, Manappad port, Koodankulam port, Chettinad Tharangambadi Port, Mathur SIDCO Industrial area, Sipcot Industrial Park Malayambakkam
DISC CLEANER is best substitute Mechanical cleaning ( Scrubbing and Brushing ) damage to discs which results in poor performance.
Product Description:
RXSOL-16-1007-210  is a liquid blend of organic solvent with heavy duty & concentrated emulsifying Acidic agents , which is developed for cleaning stainless steel separator discs . An extremely effective for removal of SALT DEPOSITION ( Salts of Calcium Carbonate etc. ) burnt grease , carbon deposit , oily residues and lacquers found in fuel oil and lube oil purifiers and filters. NOTE:- Mechanical cleaning ( Scrubbing and Brushing ) damage to discs which results in poor performance.

 
Characteristics:-

• Formulated to remove heavy tenacious deposits.
• Allows cleaning of discs without dismantling of disc stacks.
• Reduces downtime.
• Improves efficiency of centrifuge installation.
• Cleans down to metal surfaces.
• Cleans all types of separator discs
Product Application:
FIELDS:-
A very fast  & effectively removes without the need of Scrubbing and Brushing of Centrifugal Separators, Disc & all types of heavy tenacious deposits  which collect  in fuel &  lube oils centrifugal separators disc stacks.

Flash point  cc                             :  None
IMO-Code                                     :  8-2031-T700.
NATURE OF SPECIAL RISKS AND SAFETY ADVICE
In accordance with the latest E.E.C. Council directives:
R 36                :     Irritating to eyes and skin.
S 2                   :     Keep out of reach of children.
S 28                 :    After contact with skin rinse immediately with plenty of water.
Product Procedure:
For General cleaning it Should be diluted ,at the rate of 1-parts RXSOL-16-1007-210 to 5-parts water,( Or 1:1 ratio of any solvent like diesel ) before use or depend  on nature of dirt / contamination  . For Heavy deposition , immerse the stainless Steel DISCS in the container with concentrated RXSOL-16-1007-210  for 15 minutes to 3 Hrs.  At 50 to 60°C ( Heating is not necessary ) . 
After the unit or parts have been satisfactorily cleaned, remove the discs by using RUBBER GLOVES and rinse thoroughly with fresh water. It is recommended that this product is not used on soft metal, Zinc,Tin, Galvanized surfaces or Anodized Aluminium. Then separator discs can be used immediately. 
NOTE:- 
Recirculation  and  heating will improves the cleaning action.
Product Technical Specification:
Product alias:
Ameroid DC, Careclean Separator, Eazy Disclean, SI-314